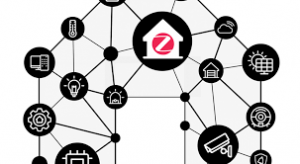 (Editor's Note: This article, translated from ZigBee Resource Guide · 2016-2017 Edition. )
Zigbee 3.0 is the unification of the Alliance's market-leading wireless standards into a single solution for all vertical markets and appliations. The solution provides seamless interoperability among the widst range of smart devices and gives consumers and businesses access to innovative products and services that work together to enhence everyday life.
The ZigBee 3.0 solution has been designed to be easy to implement, purchase and use. A single fully interoperable ecosystem covers all vertical markets eliminating the need to select between application specific profiles such as: Home Automation, Light Link, Building, Retail, Smart Energy and Health. All legacy PRO devices and clusters will be implemented in the 3.0 solution. Forwards and backwards compatibility with legacy PRO based profiles is maintained.
Zigbee 3.0 uses the IEEE 802.15.4 2011 MAC/Phy specification operating in the 2.4 GHz unlicensed band bringing access to world-wide markets with a sigle radio standard and support  from dozens of platform suppliers. Built on PRO 2015, the twenty-first revision of the industry leading ZigBee PRO mesh networking standard, ZigBee 3.0 leverages the over ten year market success of this networking layer that has supported over a billion devices sold. Zigbee 3.0 brings new network security methods to market keeping up with the ever changing needs of the IoT security landscape. Zigbee 3.0 networks also provide support for Zigbee Greeen Power, energy harvesting "battery-less" end-nodes by providing a uniform proxy function.
The Zigbee Alliance has always believed that true interoperability comes from standardization at all levels of the network, especially the application level which most closely touches the user. Everthing from joining a network to device operations like on and off are defined so devices from different vendors can work  together smoothly and effortlessly. Zigbee 3.0 defines over 130 devices with the widest range of device types including devices for: home automation, lighting, energy management, smart appliance, security,sensor, and health care monitoring products. It supports both  easy-to-use DIY installations as well as professionally installed systems.
Would you like access to the Zigbee 3.0 Solution? It's avaliable to members of the Zigbee Alliance, so join the Alliance today and become part of our global ecosystem.
By Mark Walters, CP of Strategic Development · ZigBee Alliance
---
Post time: Apr-12-2021